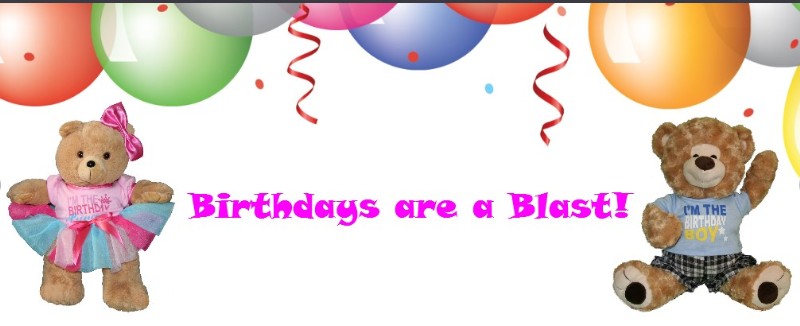 Make your own Stuffable Animals
Build a stuffed bear party with our unstuffed animal kits. Unstuffed bears & animals at discount prices. Choose from a huge variety of quality unstuffed animals, bear clothing and accessories.
We offer bulk discounts and wholesale pricing on all of our stuffable animal kits. The more you buy the more you save!
Choose from dozens of styles available in 2 sizes.
Our NO SEW budget friendly unstuffed animal kits allow you to host your party (or event) from any location. Hand stuffed animals are ideal for parties, birthdays, fundraisers, group activities, holiday events and gifts.
Build your own stuffable animal is a fun activity for ALL ages and can be made from any location. Just fill with fluff, stuff and close (no sewing required). Hand stuffed animals are truly special because (you) or your child can create a cherished friend.
---
---
After stuffing your new furry friend you can personalize it with a variety of Teddy Bear clothes, outfits, T shirts, sound buttons and other fun accessories. Our stuffed animal clothing will fit BUILD A BEAR®, Collectible teddy bears and all types of plush animals.
We also offer Wholesale Bear Shirts. These low cost mini t shirts are perfect for customizing, imprinting and for promotional purposes. Use them for another hands on party craft activity. They can be customized with markers, crayons, stickers, appliques and more.
We offer wholesale bear shirts to the public with additional discounts when you buy in bulk.
---
* INTERNATIONAL ORDERS WELCOMED

** We accept the following payments methods
VISA/MASTERCARD ~ DISCOVER ~ AMERICAN EXPRESS and PAYPAL
** We respect your privacy !! We do NOT give out or sell any personal information to anyone !!
---
---




15" Stuffable Animals Unstuffed animal kits
Stuff your own animals with our LOW COST unstuffed animal & bear kits. We offer bulk & wholesale discounts on ALL stuffable animal kits. The more you buy the more you save!

Make your own Stuffable animals for parties, fundraisers, group activities, holiday events and gifts.

Choose from dozens of styles available in 2 sizes.

Unstuffed animals are ideal for any type of celebration, party activity, holiday events and social functions.

8" Stuffable Plush Unstuffed animal kits under 7.00.
Make your own Teddy bear party stuffable plush unstuffed animal kits under 7.00. Stuffable animals for fundraisers, bear party events, group activities and gifts. Unstuffed animals & stuffable bears at discount prices.

Teddy Bear clothes | Stuffed animal clothing
Teddy Bear clothes wholesale clothing for all types of plush stuffed animals and teddy bears. Outfits and Costumes for BUILD A BEAR® and OUR stuffable plush animals.

Plush animal clothing at discount prices. This size range will fit 14"-16" plush stuffed animals and teddy bears. We offer complete outfits, Costumes, Boy clothes, Dresses, Holiday attire, Career and more! Select from a variety of styles for all types of plush animals and teddy bears.

Wholesale Teddy Bear T-shirts, bear shirts, Doll T-shirts.
Wholesale Bear shirts, bear T shirts, plush animal clothing and bear clothes. Mini T-shirts for fundraisers and Bear party crafts. Bear T-shirts for unstuffed animals, build a bear® and stuffable plush.

Mini T-shirts for fundraisers and Bear party crafts. T shirts for plush stuffable animals and unstuffed plush.

Bear Pajamas Stuffed animal clothing
Teddy Bear clothes and stuffed animal clothing.

Pajamas for teddy bears, our stuffable plush, Build a Bear, collectible bears and dolls. Pajama sets for bears, robes, boxers, t shirts and more.

Teddy Bear Cheerleader Uniforms and Sports Outfits
Teddy Bear Cheerleader outfits for Build a Bear, Plush Animals and dolls. wholesale bear clothes and plush animal clothing.

Bear clothing can be customized with fabric markers, paints, ribbons, felt, rhinestones and more.

Stuffed animal and Teddy Bear Accessories.
Stuffed animal and Teddy Bear accessories. We offer a variety of items for you to create your own party packages including sound buttons, take home boxes, backpacks and accessories for kids party crafts.




Teddy bear clothes, shoes and accessories. Bear clothing for stuffable animals, plush stuffed animals and collectible bears.

Wholesale Bear clothes for BUILD A BEAR WORKSHOP® animals, unstuffed bears and our stuffable plush. We offer a variety of Stuffed animal clothing, accessories and supplies.

Make a stuffed animal party with our Stuffable animals and stuffable bears!

---




Phone: 317-893-2395

A Dolly's World
1331 ODell Ln
Greenwood, IN 46143